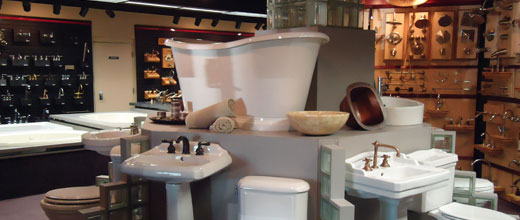 visiting tips
Whether you are building a new home or simply remodeling your bathroom, our product specialists can help. We guide you in selecting quality fixtures and accessories for your kitchen or bath to help turn your kitchen and bath dreams into reality. We even read blueprints and help you with installation, warranty and delivery specifications.
First, select a showroom in your area then, follow these helpful hints to prepare you for your visit:
Bring your blue prints or floor plans
Know your budget for plumbing fixtures and accessories
Collect images of design styles that fit your preference. They don't have to be just kitchen and bath designs; they can be pictures of any style that you like. These pictures will help us get to know you and your style quickly and will allow us to design your dream bathroom or kitchen.
Bring any finish samples you may have: paint colors, flooring samples, countertop selections, etc.
Allow at least two hours for kitchen and bath selection.
Appointments are encouraged to better help us prepare for your arrival. Give us a call today so we can start turning your dreams into reality!